The province of Malaga is known for the great variety of landscapes, places and tourism options that it offers in its entirety. Beginning with its incredible Costa del Sol to its interior with a special charm.
The artificial lagoon of Malaga, called Alcazaba Lagoon is one of those points that you must visit and for this reason, today we will tell you everything about it.
What is the Alcazaba Lagoon?
It is a unique lagoon in Europe that reaches 1.4 hectares, and in it you can find different rooms and services that achieve a unique experience. Alcazaba Lagoon is not a simple swimming pool, since it is an artificial beach with crystalline and greenish water, as well as fine sand.
One of the aspects that makes this point more unique is the fact that it is located in the middle of mountains and vegetation, thus producing a fusion of the most striking environments that we can find in the region.
Ecology and sustainability in Alcazaba Lagoon
Alcazaba Lagoon is also a pioneer in maintenance technology, since it may be a question to be resolved due to its large dimensions.
The maintenance and treatment of the water is carried out using ultrasonic technology, which allows the application of more than 100 fewer chemicals, in addition to spending only 2% of what conventional machines for swimming pools do.
Undoubtedly, Alcazaba Lagoon is committed to innovation and transformation in all its facilities.
Activities in Alcazaba Lagoon
The Alcazaba Lagoon facilities are not only limited to a space to relax and swim, it also has multiple activities that can be done and that are also included in the price of your ticket.
Some of the activities at Alcazaba Lagoon can be paddle surfing, kayaking, pedal boats, diving or windsurfing. All these activities have trained personnel and monitors who can help you practice them safely.
So that these activities can be carried out safely, Alcazaba Lagoon has 3 different closed pools and the lagoon area, where you must access with certain security measures such as a vest.
Price of Alcazaba Lagoon
The entrance price varies between children and adults. In the case of adults, the price changes depending on the season of the year in which you decide to go, ranging from 5 euros in low season to 50 in high season.
Where to eat in the Alcazaba Lagoon?
The Alcazaba Lagoon cannot be accessed with food or drinks from outside, but it has the option of a beach bar or restaurant so you can enjoy the full experience.
In the beach bar you can enjoy typical food from the Costa del Sol while in the restaurant you will find special dishes, gourmet and fusion cuisine.
How to get to Alcazaba Lagoon?
The Alcazaba Lagoon is located in the municipality of Casares, so if you stay in the city of Malaga it will be at a distance of around 1 hour.
To get there, the easiest way is to access it by following the indications to Estepona and once there, you will begin to see the signs to the municipality of Casares.
The exact location is Calle Cortijo del Beneficiario, 29690 Casares, Málaga.
When is Alcazaba Lagoon open?
Like the price of the tickets, the hours at Alcazaba Lagoon will vary depending on the season in which you visit.
Low season from 11:00 to 18:00, medium season from 11:00 to 20:00 and high season from 11:30 to 19:30.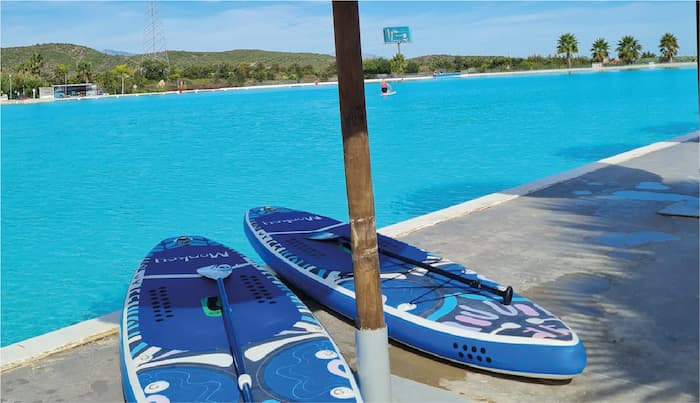 Do you want to continue discovering places?
Enjoying an incredible day in Alcazaba Lagon you want to continue discovering the incredible province of Malaga and visit a natural lagoon.